Vector Free
Vector Free is a vector art gallery of free to use vector images, graphics, symbols, icons, buttons, logos, clip art, cartoons, silhouettes, characters, patterns, brushes and backgrounds. Download the vectors for free in Illustrator vector format and use them for your digital art, graphic design and illustration projects. More about VectorFree.com...
Vector of the Week
Logo Symbol Vector Set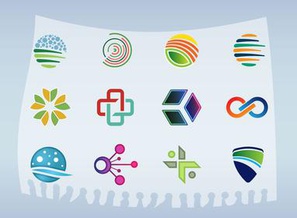 A set of twelve symbols and shapes ready to be used with logos, collages ...
Free Vector Art & Graphics
Candy Banners

Vector designs with bright color candy. Light and dark version of a rectangular design ...

Radar Vector

Abstract vector footage of a radar or futuristic dial. Geometric layout with circles, dotted ...

Canada Flag

Vector graphics of one of the national symbols of Canada. Waving flags of the ...

Cooking Pots

Kitchen and restaurant vector design with different metal pots. Meals and soups with different ...

Logo Vectors

Vector image set with versatile abstract logos. Icons for a computer folder, power button ...

Ecology Icons Set

Vector image set with ecology icons. Nature layouts with raindrops, arrows forming a circle ...

Arrows Vector

Abstract vector arrows with different shapes and sizes. Circles, dots, arrows pointing up and ...

Religious Cross

Christianity vector footage of a cross and decorative plants. Crucifix decorated with a well ...

People Cartoons

Funny cartoon vectors with different characters. Smiling boy with pointy party hat, surprised man ...

Rat

Silhouette vector graphics of a rat. Dirty animal with very long curved tail. Messy ...

Computer Circuit Vector

Technology vector with abstract circuit composition. Circuit decoration formed by circles, lines, geometric shapes ...

Colorful Bubbles

Abstract vector footage of colorful balls and shines. Big circles with dark frame in ...

Keys

Vector image set with keys for doors, vehicles and mailboxes. Keys with different designs ...

Waving Dots Abstract Design

Abstract vector design with a wave formed by many dots. Warped geometric shapes in ...

Scary Yin Yang

Horror vector layout with a popular Eastern symbol. Yin and Yang icon with skulls ...