Vector Free
Vector Free is a vector art gallery of free to use vector images, graphics, symbols, icons, buttons, logos, clip art, cartoons, silhouettes, characters, patterns, brushes and backgrounds. Download the vectors for free in Illustrator vector format and use them for your digital art, graphic design and illustration projects. More about VectorFree.com...
Vector of the Week
Logo Symbol Vector Set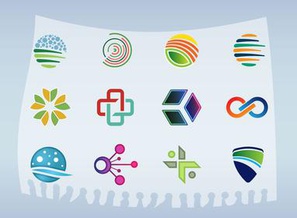 A set of twelve symbols and shapes ready to be used with logos, collages ...
Free Vector Art & Graphics
Cartoon Characters

Cool vector cartoon with many different characters. Animals, monsters and strange creatures with different ...

Spirals Pattern

Abstract vector footage with a seamless pattern with swirling shapes. Small spiraling lines to ...

Spring Flowers Vector

Nature vector layout with blooming plants. Flower blossoms shape made out of small dots ...

Grumpy Bird

Cartoon animal vector design with a sad or angry parrot. Hand drawn sketch in ...

Christmas Tree

Christmas vector design with an abstract tree and snowflakes. Evergreen tree made out of ...

Easter Eggs Vector

Seasonal vector graphics of a basket with Easter Eggs. Spring layout with detailed basket ...

Grunge Starburst

Abstract vector layout with starburst rays and nature decorations. Grunge stained pattern with old ...

Body Art Vectors

Abstract vector graphics of various tattoos. Silhouettes graphics with waving and curved lines, swirls ...

Parade Girls

Celebration vector footage with marching cheerleaders. Tall fit girls wearing hats and short skirts ...

Bursting Graphics

Shattered shapes vector graphics. Abstract Illustrator footage of exploding geometric shapes. Composition with lines ...

Christmas Ball

Seasonal vector footage of a Christmas ball decoration. Round ornament hanging on a string ...

Swirling Vines

Nature vector layout with swirling vines. Curved and waving plant stems with small leaves ...

Characters Faces

Vector image set with weird cartoon characters. Faces with different features, hairstyles and accessories ...

Bookmark Logo

Vector book or box icon. Abstract cube made out of rounded lines, solid side ...

Bugatti

Automobile vector footage of a luxurious car. Bright color Bugatti Veyron with glowing headlights ...